ACK Artist Information


PETER AUGUSTUS
Application 2023

︎︎︎(back to home page)

-

Artist #1:

Naruki Kukita
Brooklyn USA-Based Artist
BODY

Satyr and Virtual Nymphs; 2022; Oil on Linen; 38 x 60 inches

Kukita's practice is one that is centered on his playful portrayal of contemporary figures (young models - anime - mythological creatures) within a setting reminiscent of a painting from the Renaissance through Neoclassicism. All of his works include subjects drawn from sittings with a live model in his studio and Kukita's old masters-level command of oil is one that is unmatched in today's emerging contemporary artist arena.

Kukita has built a successful career selling direct to collectors, yet with a recent acquisition by Beth DeWoody's The Bunker Artspace, the artist is exploring a formalized approach to showing his works. He will have his first solo show in the United States at Peter Augustus in May 2023.

The artist was born in Japan and currently lives and works in Brooklyn, New York, USA. He studied at the National Academy of Fine Arts, New York (2013) and holds a BFA from Tama Art University, Tokyo, Japan (2004).

Selected Group Exhibitions include: ''He'' curated by Robert Summers, Last Projects, Los Angeles, CA (2017); ''Queer Biennial II, Youth: Loss and Found'' curated by Ruben Esparza, Coagula Curatorial, Los Angeles, CA (2016); ''Interface: Queer Artists Forming Communities'' curated by Walt Cessna, Leslie Lohman Museum, New York (2015); ''THE REBEL, THE RECRUIT & THE CHOSEN'' curated by Guy Berube, La Petite Gallery, Ottawa ON Canada (2014); ''The 8th annual Visual AIDS Vanguard Awards'' curated by Richard Renaldi, Angel Orensanz Foundation for the Arts, New York (2013); ''Me Love You Long Time'' curated by Edwin Ramoran, Boston Center for the Arts, MA (2012); ''Spank Gallery Show'' curated by William Lynn, Krause Gallery, New York (2011); ''I see myself in you'' curated by Wayne Northcross, Bronx art space, NY (2010).



Oberon and the VR Mermaid; 2022; Oil on Linen; 48 x 36 inches
-



Matt Rides Peagasus; 2021; Oil on Linen; 54 x 36 inches
-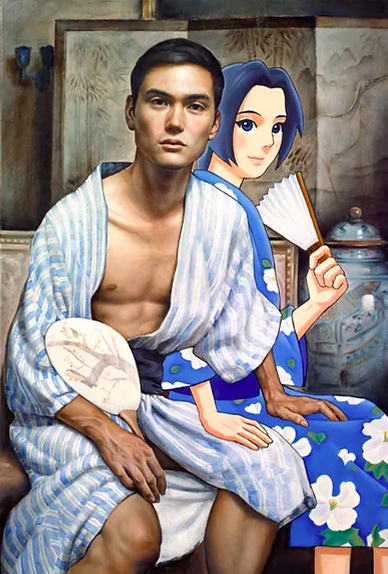 Virtual Japonism; 2017; Oil on Linen; 54 x 36 inches
-



VR John The Baptist; 2022; Oil on Linen; 60 x 40 inches

-



Matt and the Seven Dwarfs; 2021; Oil on Linen; 30 x 24 inches

-